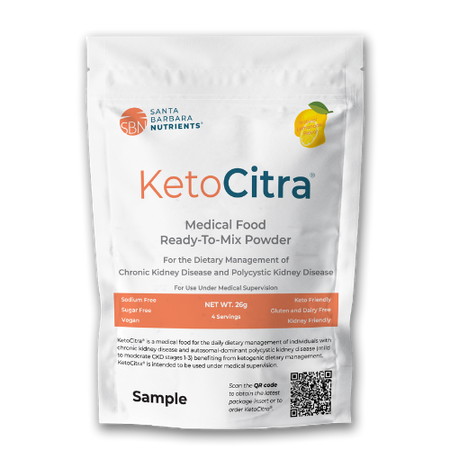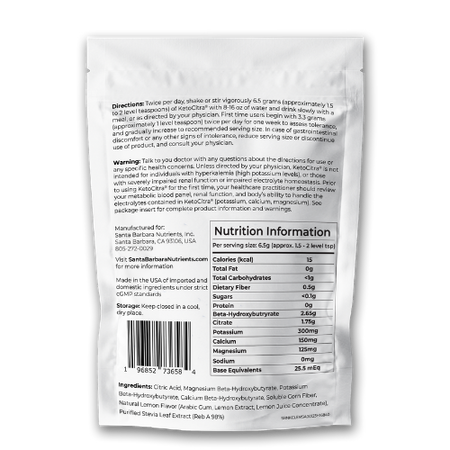 KetoCitra® Sample Packets
FREE Trial Packets Are Now Available!
For a limited time only, we're offering FREE KetoCitra® trial packets! If you've been on the fence or been trying to get a family member to try KetoCitra®, now is the time!
Help spread the word - share this offer with friends and family with PKD!
Limited time only - while supplies last!
Limited to one per customer 
Each sample contains 4 servings 
FREE - Just pay shipping
Retail Value - $12.99
Directions: Twice per day, shake or stir vigorously 6.5 grams (approximately 1.5 level teaspoons) of KetoCitra® with 8-16 oz of water and drink slowly with a meal, or as directed by your physician. First time users begin with 3.3 grams (approximately 1 level teaspoon twice per day for one week to assess tolerance, and gradually increase to recommended serving size. In case of gastrointestinal discomfort or any other signs of intolerance, reduce serving size or discontinue use of product, and consult your physician.
KetoCitra® is a medical food designed for the dietary management of Chronic Kidney Disease, including the genetic form, Polycystic Kidney Disease. 
The BHB delivered with 

KetoCitra® 

is intended to support the dietary management of cellular metabolic abnormalities in kidney disease.
The citrate in KetoCitra® supports the dietary management of hypocitraturia in kidney disease and it's formulated to deliver an alkaline base to support the balancing of urine pH.
KetoCitra® is also formulated to deliver calcium and magnesium to manage the dietary absorption of oxalate and inorganic phosphate when taken with meals. 
KetoCitra® is sodium- and sugar-free and formulated to be kidney-safe when used as directed.
KetoCitra® should be taken under the supervision of your healthcare practitioner. If you are in need of a qualified practitioner be sure to check out our 

practitioner network

.
Learn more about the science behind KetoCitra HERE!

Reviews
Ingredients

All ingredients in KetoCitra ® are Generally Recognized as Safe (GRAS) under their conditions of use. Please refer to the Nutrition Information Table below for additional information and the full list of ingredients.
Domestic Shipping

Disclaimers and Information for Domestic CustomersThank you for your interest in KetoCitra®! Free shipping will be provided for all orders shipping within the US.The average shipping time in the US is 3-4 days. **Please note: As KetoCitra® being a medical food, we are unable to accept returns under any circumstances.
Internation Shipping

Disclaimers and Information for International CustomersThank you for your interest in KetoCitra®! In an effort to make the product available outside of the United States, we are now accepting international orders. Every country has its own unique method for allowing products into the country, and since KetoCitra® is a medical food, there may be an extra layer of difficulty shipping to your country. Here are some points regarding the shipment of your order:  1. For most international customers, you will be charged a flat fee of $20.00 for all delivery charges including shipping, VAT, and any customs fees.  2. There will be an unknown timeframe for deliveries. We recommend that if you are on the subscription plan, that you move each "next shipping date" up so you will not run out between deliveries. You can also increase the quantity on the next subscription order as well. Note that larger orders may trigger extra tariffs in your country so it may be worth experimenting with.  3. Unfortunately, due to the lack of control we have over shipping and customs for international orders, we cannot provide refunds under any circumstances. We apologize for this inconvenience and are working to provide a better experience for our international customers.  4. Package inserts are not included with international orders. We recommend that you download the package insert, read it, and share it with your medical practitioner.