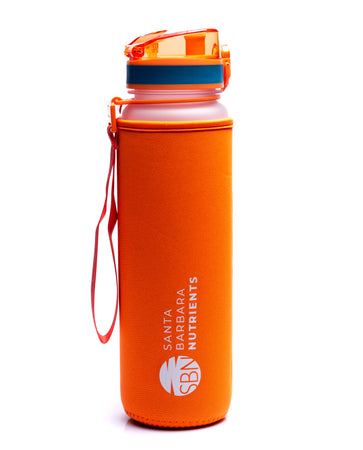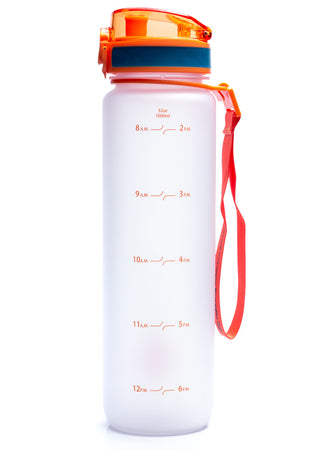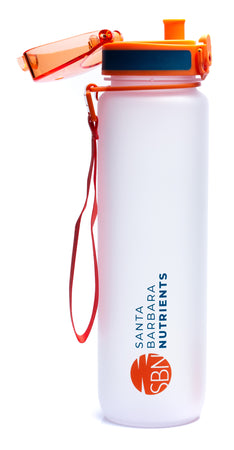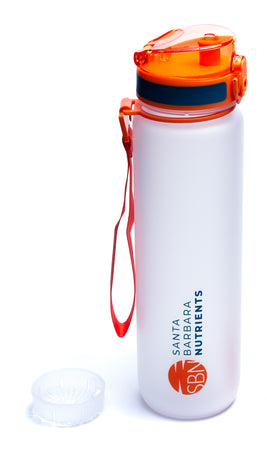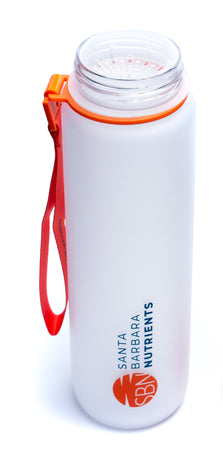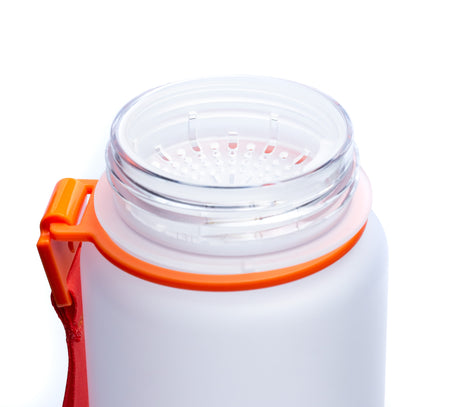 Hydration Bottle (32 oz, 1 liter)
32 oz hydration bottle with capacity markings to easily measure and meet your fluid goals.
Have you been told to drink, say, three liters of water per day but find it hard to do? How do you keep track? How to you always carry enough water around with you? Are the bottles you have too heavy, or leak or break all the time? No fun!
Treat yourself (or someone you love) with this terrific hydration bottle that your SBN team has selected. We tested a lot of bottles and found a winner that we love. Our team has been using these bottles every day. It can probably be done but we don't seem to be able to break these bottles. 
Time marker to measure your intake - no more guesswork!

Conquer your daily water intake goal like clockwork

Super lightweight. Don't lug around more weight than you need

100% BPA-free Tritan high quality plastic

Built-in (and detachable) carry handle making it convenient and easy to take anywhere
One-click flip lid for ease of use and dust-proof
Lock to prevent accidental opening
Slip proof, washable, sleeve for insulation and moisture control
Leak proof design making the bottle suitable for indoor and outdoor activities
Wide mouth making it easy to add powder or liquids 

Removable strainer allows you to add fruit, ice cubes or tea bags to your bottle without clogging everything up or getting into your mouth
Reviews
Ingredients

All ingredients in KetoCitra ® are Generally Recognized as Safe (GRAS) under their conditions of use. Please refer to the Nutrition Information Table below for additional information and the full list of ingredients.
Domestic Shipping

Disclaimers and Information for Domestic CustomersThank you for your interest in KetoCitra®! Free shipping will be provided for all orders shipping within the US.The average shipping time in the US is 3-4 days. **Please note: As KetoCitra® being a medical food, we are unable to accept returns under any circumstances.
Internation Shipping

Disclaimers and Information for International CustomersThank you for your interest in KetoCitra®! In an effort to make the product available outside of the United States, we are now accepting international orders. Every country has its own unique method for allowing products into the country, and since KetoCitra® is a medical food, there may be an extra layer of difficulty shipping to your country. Here are some points regarding the shipment of your order:  1. For most international customers, you will be charged a flat fee of $20.00 for all delivery charges including shipping, VAT, and any customs fees.  2. There will be an unknown timeframe for deliveries. We recommend that if you are on the subscription plan, that you move each "next shipping date" up so you will not run out between deliveries. You can also increase the quantity on the next subscription order as well. Note that larger orders may trigger extra tariffs in your country so it may be worth experimenting with.  3. Unfortunately, due to the lack of control we have over shipping and customs for international orders, we cannot provide refunds under any circumstances. We apologize for this inconvenience and are working to provide a better experience for our international customers.  4. Package inserts are not included with international orders. We recommend that you download the package insert, read it, and share it with your medical practitioner.